The current trend has been that just about everyone wants to cap on Stone. That's great, until we have too much of it.
There are a few factors that contribute to what we wish to prioritize in a given week (Weekly Upkeep, Upgrades, Upgrades part-paid, and Surplus) . I will explain how this works below, under the assumption that most people can see these features:
In the Citadel, the mini-map looks like this: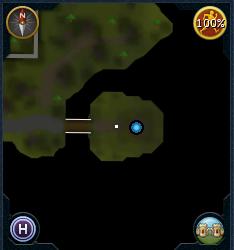 In the bottom right corner there's a castle icon. If you select it in game, you see this: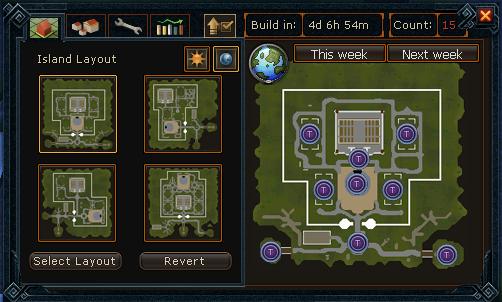 This is a very handy interface. You can see when the next Build Tick ("Build in") will be (4d6h), how many people have visited the Citadel ("Count") so far (15), and other things. Most importantly, if you select the colored bars with a green arrow over them, you can see a summary of the building materials we've collected. Once you have clicked on the colored bars, you now see this: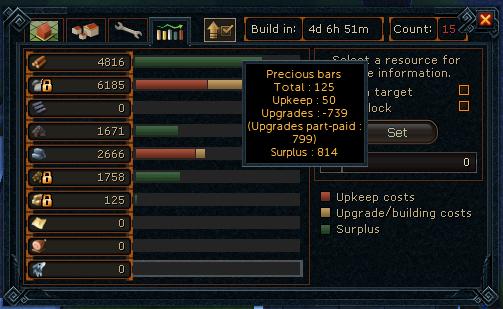 If you hover over the bars going down the right side, you see a little box summary of the chosen resource. In the image, the example is "Precious Bars". We can see that:
- we have 125 Precious Bars
- we need 50 for our Weekly Upkeep
- - 739 for Upgrades
- Upgrades part-paid 799
- Surplus 814
This defines the factors we want to look at for every resource when deciding what to collect
.
The number of resources we have is not the number we have collected, just because we use up some of those collected resources. Ideally, we will use all of our Charcoal, Metal Ore, Precious Ore, and later on probably Minions. Anything left over can't be used, therefore it goes to waste. Other resources (Logs, Stone, etc. can be stored to a certain point).
Weekly Upkeep is about how many resources we NEED to keep the Citadel running smoothly.
It's the #1 most important number to notice. We need to reach the Weekly Upkeep demands for every type of resource every week. In this case our Upkeep is only 50 Precious Bars. They go into our Tier 4 Storehouse Upkeep. For other resources, like Logs and Stone, the Upkeep numbers are generally higher. As we advance to higher tiers, we will need more Precious Bars for Upkeep. In the example above, the Weekly Upkeep has been met.
Upgrades
is confusing, but what it's saying for Precious Bars is that we have collected 799 toward the Medium Avatar Habitat and 60 toward our upcoming tier4 Woodcutter plot (799 - 60 = 739).
Upgrades part-paid
refers to how many resources we have put toward future building projects. In this case, we have put 799 Precious Bars into our 2nd Avatar's Habitat

Other resources that go into
Surplus
can help us toward Upgrades. In the example above, we have 814 Surplus Precious Bars. They are going to do this:
- get us Tier 4 Woodcutter plot next week
- store toward our 2nd Avatar (18% done)
The priorities are as follows
:
1. Collect enough of each resource to reach Weekly Upkeep requirements. Requirements change as we advance into higher tiers. It's worth checking them. If we don't meet our Weekly Upkeep requirements, the Citadel can dilapidate and we could not only lose progress but lose our buildings.
2. Collect resources toward upgrades. Some of this may appear as surplus, but we want the upgrades.
3. Finally, collect resources into surplus. That way we have some stuff carrying forward into the next week.
That's everything, but please feel free to contact me about what we need each week when the Build Tick resets

A note about resources which expire at the end of a Build Tick (i.e., anything used to make other stuff):
Please communicate if you are using up resources someone else collected (with the person who collected the resource) to ask permission to share it. Otherwise, it could upset some members who either cap on different characters or cap on various resources in a given tick

General Tip: when possible, avoid capping on just one resource unless it's absolutely necessary. I rarely cap on less than 3 different things. This helps distribute the overall Citadel workload

Be mindful of what the Citadel currently needs and if you're confused, just ask



Similar topics
---
Permissions in this forum:
You
cannot
reply to topics in this forum